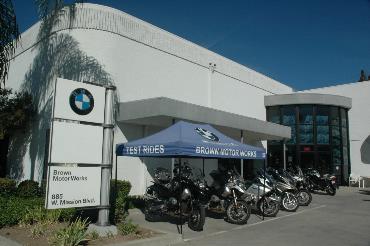 At Brown Motor Works we are powersports enthusiasts, and we are excited to help you experience the fun and adventure that a quality BMW can bring into your life! Located in Pomona, CA, we offer the best in new and pre-owned scooters, adventure or sport motorcycles. Our friendly and knowledgeable sales, financing, service and parts departments are ready to offer outstanding service at every point, from assisting while you're making your choice to ongoing maintenance and customization. At Brown Motor Works, our staff members value the opportunity to create a long-term relationship with our customers, and we do that by making sure to exceed your expectations.
Brown Motor Works BMW Motorcycles is located at 885 West Mission Blvd, Pomona CA at the intersection of Mission Blvd and White Ave in Pomona CA, near Highways 60, 71, and Interstate 10, southeast of Los Angeles. Its history as a BMW Motorcycle dealer goes back several decades with Bob Brown, now semi-retired but still a frequent presence at our large and well-kept facility. His overall experience as a motorcyclist would fill many pages, so let's just say that he really knows bikes and really knows how to ride.
Currently in charge of day-to-day operations as the general manager is his son David Brown. He grew up with the business and with motorcycles and is an active, daily rider. His knowledge of BMW models throughout his lifespan is probably unmatched, and he is often sought out for this expertise. His sister Julie dutifully tends to the books & paperwork and often assists at the parts and accessories counter. She is also a frequent rider.
Come on down to Brown Motor Works today to purchase your next BMW motorcycle. Our staff is here to make sure you have the best experience possible when you come to our dealership. Contact us today for more information or visit us for yourself.
Contact Us
Contact us online now or call us today at (909) 629-2132 and find out how our team can help you find the BMW you've been looking for! We look forward to the opportunity to serve you.
Brown Motor Works is conveniently located near the areas of Chino, Anaheim, El Monte, Riverside, Ontario, and San Bernardino.